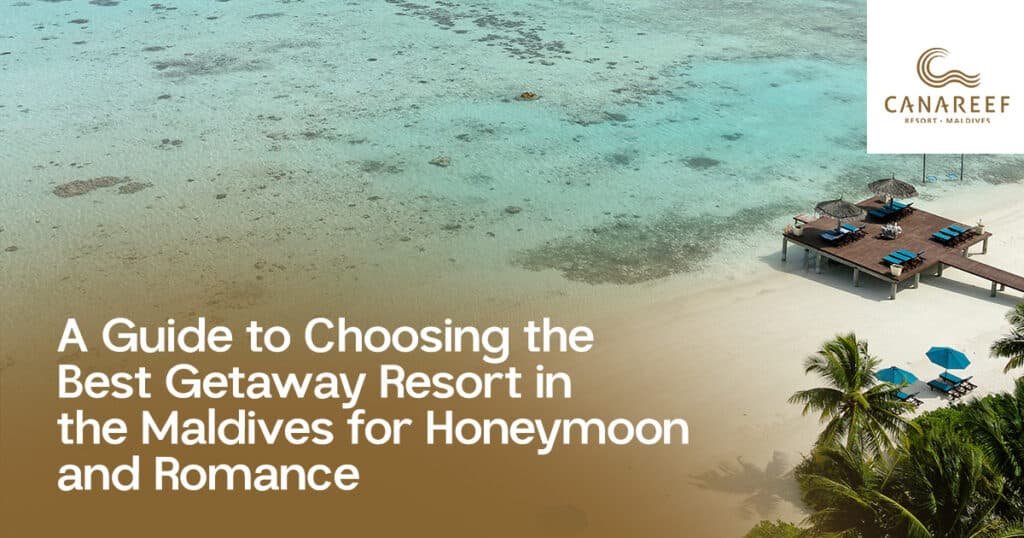 The Maldives, the beautiful chain of isles, is synonymous with love, magic, and romance. Its pristine sandy beaches, crystal clear waters, and a sky that paints a new picture at sunrise and sunset each day make the ultimate dream destination for newlyweds and couples seeking a magical romantic getaway. The heart of this experience often lies in finding that perfect resort that becomes your personal haven.
But how to choose a hotel or resort in the Maldives? With a lot of coral islands and numerous high-end resorts, each promising a slice of paradise, making a choice can seem overwhelming.
Choosing the right resort in the Maldives is not just selecting a place to stay. It's about finding that perfect blend of luxury, serenity, and exclusivity to match your ideal romantic stay. It's about selecting a place that offers immersive experiences, comfort, and the chance to make memories you will cherish for a lifetime.
In this guide, we will navigate through the essential factors to consider, offer insights about selecting an island resort, and provide you with expert tips to ensure that your cherished romantic escape or honeymoon in the Maldives is nothing less than perfect.
Why Maldives for Honeymoon and Romance?
Composed of 26 atolls that string together over 1,000 coral islands in the heart of the Indian Ocean, the Maldives sets the stage for romance with its unique geography. From beautiful islands scattered in the ocean to the ethereal underwater world hiding beneath its clear blue waters, the Maldives is a breathtaking spectacle.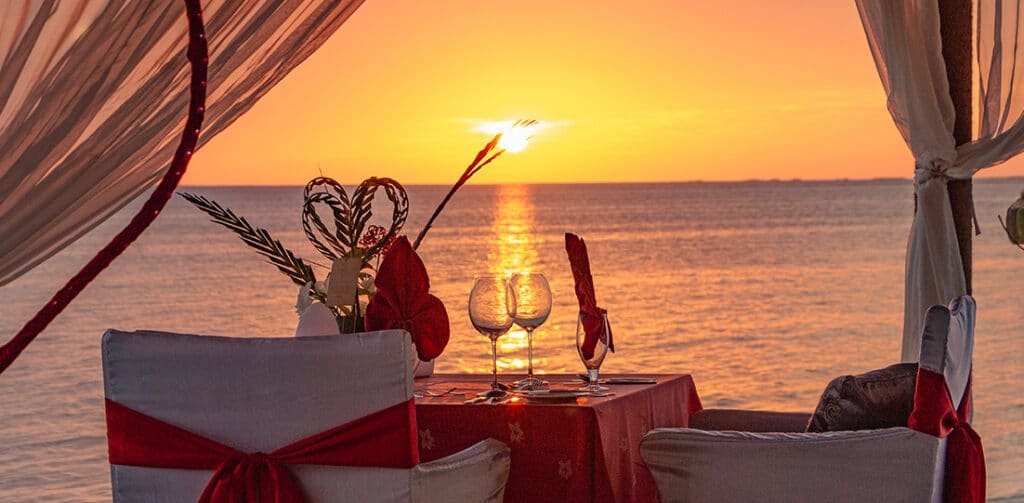 Every resort in Maldives offers private villas, promising seclusion, tranquility, and an intimate connection with nature. The fine sandy beaches, iconic overwater villas perched on turquoise lagoons, and abundant marine life make it a place where dreamy realities are crafted. Imagine waking up in a beach villa, surrounded by the soft sound of waves, with the Indian Ocean as your front yard. This is what the Maldives offers – an escape to a completely different world.
The Romantic Ambiance of the Maldives
The Maldives is not just about picturesque landscapes but also about the serenity and privacy that luxury resorts in the Maldives provide. Whether you choose an opulent beach villa or a secluded water-front bungalow, you are bound to feel like you've found your own slice of paradise. Add to this the top-notch service offered by the hotels and resorts, and you have the perfect recipe for romance. The resorts ensure maximum privacy for their guests so they can enjoy their stay. This is one of the things that make Maldives the ideal vacation destination for newlyweds and couples.
Many of the villas come with private pools, sun decks, and direct access to the beach or lagoon, offering couples their personal sanctuary. Imagine spending your days snorkeling around vibrant coral reefs, dining under the stars by the beach, indulging in rejuvenating couples spa treatments, or simply lounging on your sun deck as you watch dolphins flip in the distance. It's a place where love blossoms and memories of a lifetime are created.
Best Things to Do in Maldives
A holiday on an island in the Maldives offers an impressive range of activities both above and beneath the water. Whether you're a thrill-seeker or a tranquility-loving soul, you'll find your ideal island activities in this mesmerizing country. Especially for couples seeking some romantic time, these activities are great chances to create memories while enjoying each other's company.
Try Maldivian Cuisine
Maldivian cuisine is a delightful culinary experience that is not to be missed during your Maldives holiday. Savor the exotic flavors of traditional dishes like "Mas Huni" (a blend of tuna, coconut, and spices) or "Bis Keemiya" (a local spring roll). Many luxury resorts offer Maldivian cooking classes, perfect for honeymooning couples looking to enjoy and learn about the vibrant, flavor-packed local cuisine together.
Relax and Unwind
The Maldives is synonymous with relaxation. With numerous resorts offering exquisite overwater and beach villas, unwind amidst the gentle lullabies of the ocean waves and the rustling palm leaves. Indulge in rejuvenating spa treatments and yoga sessions, or simply lounge by the pool with a cocktail in hand.
Go Scuba Diving and Snorkeling
The Maldives is a diver's paradise. Explore the technicolor underwater world and come face-to-face with vibrant coral reefs, a myriad of fish species, manta rays, and even sharks. Sometimes, you can even explore shipwrecks left behind from days gone by. Scuba diving here is ideal for couples looking for adventure and unforgettable experiences.
Not a fan of deep-sea diving? Snorkeling is a fantastic alternative. With clear waters and abundant marine life, snorkeling in the Maldives is a must-try water sports activity. Many resorts even offer guided snorkeling tours, making this activity an easy and exciting way to explore the underwater world.
Spot Dolphins on a Sunset Cruise
Couple your Maldives holiday with an enchanting dolphin-spotting sunset cruise. Watch these playful creatures frolic in the warm Indian Ocean while you enjoy the breathtaking view of the sun setting over the horizon. This has made plenty of cherished memories often highlighted by couples who visit the Maldives.
Nature Walks Around the Islands
One of the unique activities on the island is the opportunity to go on an excursion along the nature trails on the islands. You can take a moment to enjoy the beautiful surroundings and relax with your partner. Sometimes, you get to visit a nearby deserted island. Resorts regularly organize trips to such islands, allowing you to experience the untouched beauty of these hidden gems. It's like having your private island for the day!
Fishing
Try your hand at traditional Maldivian fishing methods. It's a relaxing pastime and an engaging way to immerse yourself in the local culture. You can experience the thrill of catching big game fish on a trawler. Some resorts even offer to cook up your catch for you, providing a rewarding end to a fun-filled activity.
How to Choose a Resort for Your Romantic Getaway
Choosing the best Maldives resort for your ideal romantic getaway can be a little overwhelming. There are many beautiful and exquisite resorts offering a multitude of services and value additions. We have listed a few key points to consider before you make a decision on where to spend your romantic holiday in the Maldives.
Privacy Level
A romantic getaway or honeymoon is a cherished, intimate journey shared between two people, and privacy becomes an essential ingredient in this blend of love and travel. In the Maldives, numerous resorts have masterfully catered to this need by offering private bungalows or villas that serve as your personal sanctuary amidst the enchanting island splendor.
Picture an idyllic water villa poised above the gently lapping waves of a turquoise lagoon or a beachfront bungalow nestled in a lush, tropical garden that opens onto a pristine beach. Imagine private pools and secluded sun decks where the only companions are the whispering winds and the mesmerizing views of the Indian Ocean.
Choosing a resort that offers seclusion and privacy not only ensures peace but also provides an undisturbed platform for love to blossom freely, for laughter to echo without restraint, and for shared secrets to find a safe haven. In the seclusion of these heavenly resorts, every moment is your own, every day a private narrative of your shared love.
So, as you embark on selecting the perfect resort for your romantic getaway, remember to factor in the level of privacy it offers. Because the tranquil surroundings of the Maldives islands offer a magical, romantic voyage that belongs to you and your beloved and no one else.
All-Inclusive vs A-la-Carte
Each couple's definition of a 'perfect romantic holiday' may vary drastically. That's why resorts offer distinct package styles to cater to unique preferences: all-inclusive and a-la-carte.
Full board and all-inclusive packages envelop you in a cocoon of carefree stay. From indulgent meals and exotic drinks to an array of exciting activities, everything is pre-arranged and included in your package. This option frees you from the concern of extra costs, allowing you to immerse yourselves fully in the romantic atmosphere without a second thought. However, this convenience comes with a trade-off. The choices available are typically confined to the offerings of the resort, limiting your exploration of different experiences outside the package.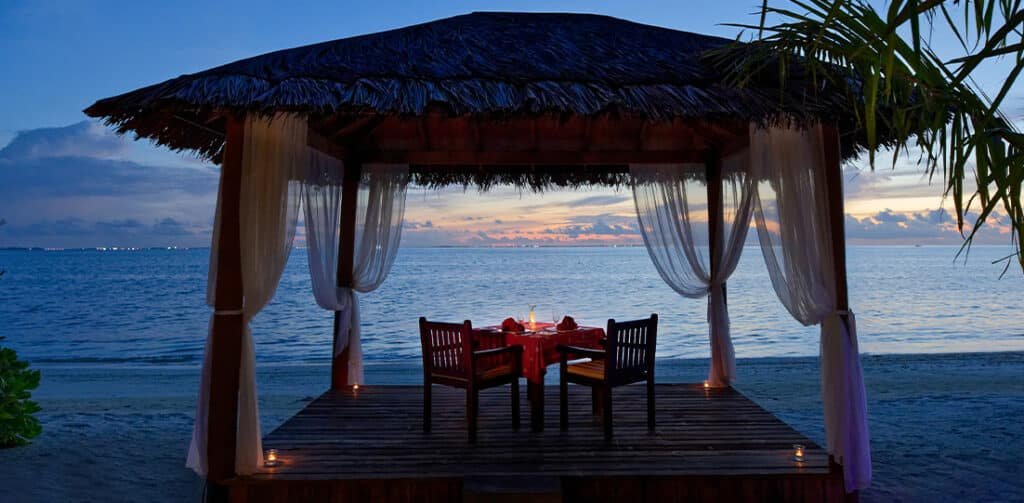 On the other hand, the a-la-carte approach puts you in the driver's seat of your holiday, giving you the freedom to tailor your romantic retreat. Be it a private beachside dinner under the stars, a couples' diving lesson, or an impromptu island-hopping escapade, you get to choose. With a-la-carte, you have the freedom to customize your experiences, from dining options to activities. However, costs can escalate swiftly, and you will need to plan and manage your budget carefully.
Dining Options
Exceptional food experiences significantly enhance a romantic holiday. In the Maldives, resorts offer a plethora of dining options. Resorts offer an array of dining options, from international buffets and fine dining restaurants to beach barbecues. Each meal becomes a voyage of flavors and experiences, seamlessly blending with the idyllic backdrop of the Maldives. But what truly elevates the dining experience here are the special arrangements that resorts offer. Look for those who curate private beach dinners under the starlit sky or surprise breakfasts on your villa's sun deck. As you choose your resort, ensure it caters to your dietary preferences and offers a range of experiences that would add delightful flavors to your romantic getaway.
Activities Available
While the Maldives is a destination for relaxation, it also offers an array of activities for couples. From snorkeling and diving to fishing trips and island hopping, ensure the resort offers the activities you and your partner are interested in. Moreover, you can enjoy couples spa treatments and romantic dinners on the beach, especially curated for you, making your stay even more memorable. Some resorts also offer unique experiences like dolphin watching and private sunset cruises. And of course, spa treatments are always a go-to for couples seeking a relaxing, rejuvenating experience.
For the thrill-seekers, you can unleash the spirit of adventure with snorkeling and diving trips, exploring the vibrant underwater realm of the Maldives. Or you may find your heart's desire in sunset fishing or big game fishing. For the exploratory souls, partaking in local island tours or island hopping can offer cultural insights and scenic surprises. Some resorts often curate unique experiences such as dolphin watching or private sunset cruises that create unforgettable, picture-perfect moments.
Travel Reviews and Ratings
Lastly, it is imperative to consider reviews and ratings from previous visitors when choosing a resort. These insights can offer a glimpse into the resort's service quality, culinary offerings, cleanliness, and overall experience, often revealing aspects not covered in official brochures or websites.
Remember, the perfect resort for your romantic getaway will be the one that aligns with both your budget and personal preferences, ensuring an unforgettable Maldivian escapade.
Perusing through these reviews can help you ascertain whether the resort truly delivers on its promises. They can guide you to understand if the romantic sunset cruise is as enchanting as advertised or if the private beach dinners truly capture the magical Maldivian skyline. Reviews may also highlight the responsiveness of the service staff or the freshness of the seafood, details that can significantly shape your experience.
The perfect resort for your romantic getaway is not merely about luxury or scenic landscapes; it's about finding a place that aligns with both your budget and personal preferences. A place that makes your heart flutter, a place that feels 'right.' So, as you sift through reviews and ratings, remember that you're not just choosing a resort, you're crafting an unforgettable chapter of your love story in the mesmerizing Maldives.
Why Canareef Resort Is Your Paradise for Romance
Nestled at the southernmost atoll of the Maldives, Addu, the Canareef Resort Maldives presents a secluded island sanctuary immersed in the Indian Ocean's pristine waters. In the embrace of turquoise sea, freshwater lakes, mangroves, and abundant tropical flora, Canareef stands proud with its private picnic island and one of the Maldives' longest beaches. The resort's unique location offers direct access to a local island via a connecting footbridge, a distinctive feature in the Maldivian resort landscape.
As a treasure trove of natural beauty, Canareef Resort Maldives offers you the opportunity to discover the unique culture, heritage, and hospitality of Addu Atoll. With the assurance of an incomparable experience, Canareef promises a holiday that will remain etched in your memory forever!
Reaching this oasis of tranquility is a journey filled with scenic delights. A 70–95-minute domestic flight from Male International Airport to Gan Airport, or a direct flight to Gan International Airport via selected airlines, is followed by a short yet exciting 10-minute speedboat ride.
The resort houses 271 expansive beach villas, each set along a beautiful 4.5 km stretch of coastline. Each villa is thoughtfully designed with open-air bathrooms and a welcoming patio, promising mesmerizing views of the lagoon or the vast Indian Ocean. These offer privacy and seclusion to couples letting them enjoy their romantic holiday.
Canareef also features various dining options from the international buffets at Kilhi Restaurant, and à la carte dining at Meera Bar to the delightful snacks from Dhoni Bar and Beach Bar, every meal is a celebration. Add to this the charm of In-Villa dining and private dining options, and you have a holiday experience that balances relaxation and unforgettable moments with perfection.
Concluding Thoughts: The Enchantment of a Maldivian Romance
A honeymoon or romantic getaway in the Maldives is not just a holiday; it's a profound journey into a realm of enchantment, romance, and unrivaled relaxation. Here, the iridescent blue waters, unspoiled beaches, thriving marine life, and the seclusion provided by excellent resorts come together to craft a unique love story in the heart of the Indian Ocean. Every moment, from the tranquil hours spent in a private beach villa, the exhilarating adventure of snorkeling, to the shared laughter over a delectable Maldivian meal, contributes to an unforgettable shared narrative in this tropical paradise.
We invite you to share your own Maldivian experiences or thoughts about planning a luxury getaway to this breathtaking destination. Whether you're reminiscing about a cherished visit or laying the groundwork for your upcoming romantic odyssey, your tales are a valuable part of the larger love story that the Maldives continues to narrate.
As you take a step towards crafting your love story, remember that in the Maldives, every sunset is a promise of a new dawn, and each sunrise ushers in a day ripe with opportunities for creating shared memories. So why wait? Book your romantic holiday in the Maldives with Canareef, and let the magic of this exotic paradise infuse your love story with an ethereal charm.